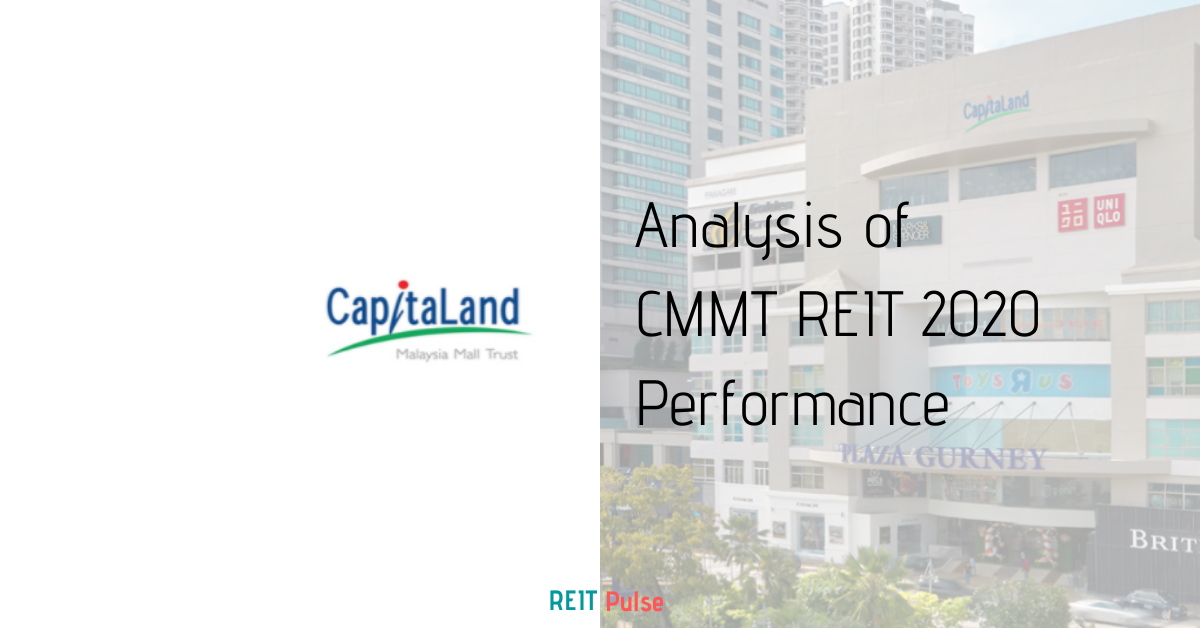 CMMT REIT or also known as CapitaLand Malaysia Mall Trust is one of the few retail REITs based in Malaysia. As at the date of this writing, it has retail properties in 3 states namely, Penang, Selangor and Pahang.
They are managed by CapitaLand Malaysia Mall REIT Management Sdn. Bhd which are jointly owned by CapitaLand Financial Ltd. (70%) and Malaysian Industrial Development Finance Berhad (30%). For those who do not know, CapitaLand Financial Ltd. is wholly owned by CapitaLand which happen to be one of Asia's largest real estate companies headquartered in Singapore.
In our last post on CMMT REIT, we have discussed a little on its 2019 performance.
Read More: 6 Key Things To Know of CMMT REIT 2019 Performance
Not much have changed in terms of its properties composition. As at 31 December 2020, CMMT REIT still owned 5 retail properties. Similar to its holding in our last writing. No doubt it has been a rough year in 2020 with the COVID-19 pandemic. Hence, in this post, we will dive into CMMT REIT 2020 performance to see how it has performed.
1) Declined in overall portfolio occupancy rate
For those that have been following our last updates, the overall occupancy rate of CMMT REIT 2019 performance is 93.8%. Just by comparing that CMMT REIT 2020 overall occupancy rate, it has declined to 86.6%. This is fueled by the COVID-19 pandemic where measures such as the movement control order have affected the overall retail demand.
| | | |
| --- | --- | --- |
| | 31-Dec-19 | 31-Dec-20 |
| Gurney Plaza | 99.8% | 98.6% |
| East Coast Mall | 99.5% | 97.4% |
| Sungei Wang Plaza | 82.0% | 64.2% |
| 3 Damansara | 92.8% | 77.0% |
| The Mines | 90.5% | 85.2% |
| Overall Portfolio | 93.8% | 86.6% |
All 5 of its properties suffered a drop in occupancy rate with its crown jewel mall Gurney Plaza declining from 99.8% to 98.6% in 31-December 2020. This is definitely adverse to CMMT REIT especially from the performance of Sungei Wang which is facing increasing pressure from other properties.
2) Negative rental reversion reported for all 5 of its properties in 2020
The second aspect we will be looking into is its rental reversion. On an overall basis, CMMT REIT registers an 11.8% decline in rental reversion. This is on top of the decline in occupancy rate for all its properties in 2020. No doubt this will definitely be adverse to its overall financial performance which we will discuss later on.
An area to point out is that pre-COVID-19, the rental reversion for its 3 properties in the central region are already recording a negative rental reversion in 2019. Hence, it comes to no surprise that its 2020 rental reversion is in the negative range.
3) Approximately 622 leases due for expiry accounting for 41% of CMMT REIT gross rental income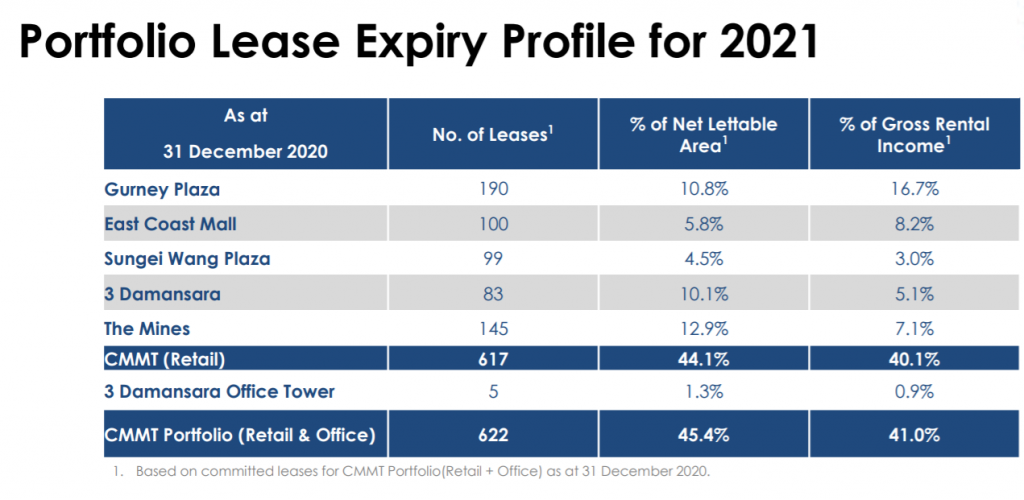 On top of its decline in occupancy rate and negative rental reversion, approximately 622 leases are due for expiry in 2021. These leases account for approximately 41% of the total gross rental income. With another round of movement control order in place in 2021, this will definitely add pressure on the already uncertain outlook of CMMT REIT.
4) Declined in both revenue and net property income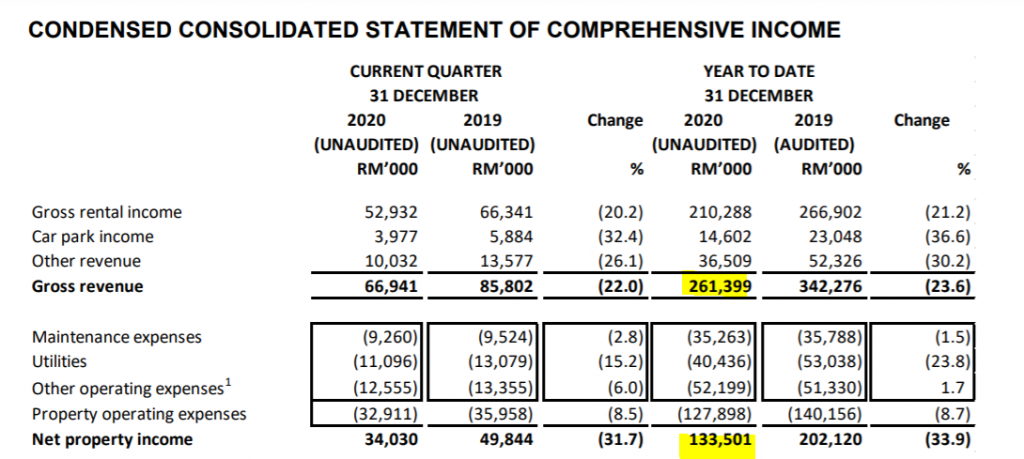 With the drop in overall occupancy rate from 93.8% in 2019 to 86.6% in 2020 alongside its overall negative rental reversion, it comes to no surprise that its financial performance has declined. CMMT REIT 2020 overall net property income is at MYR 133.5 million down from MYR 202.1 million in 2019.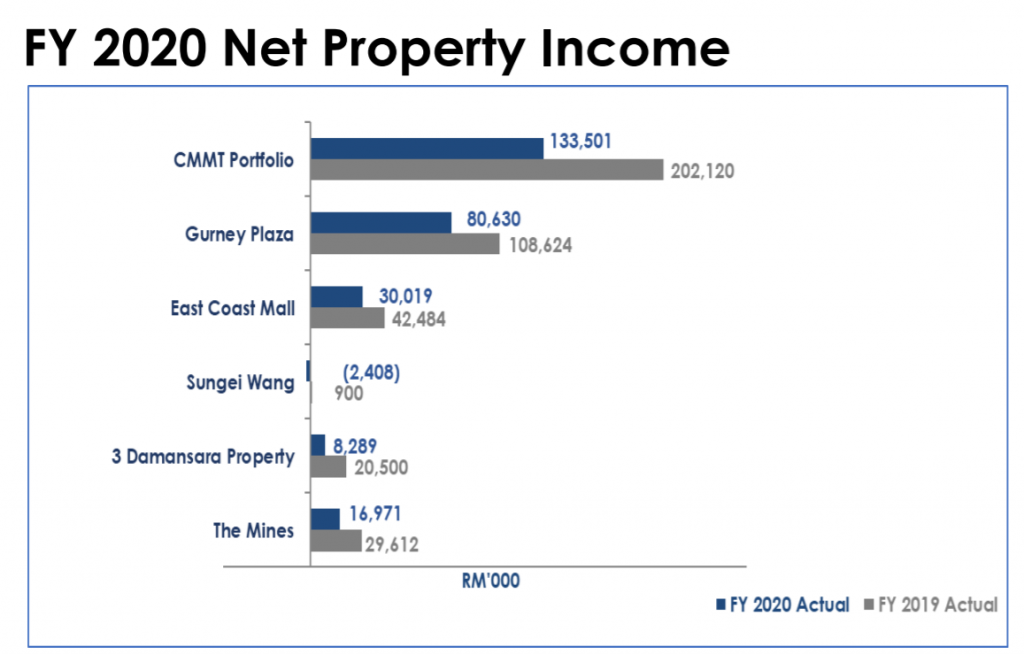 All of its properties register a decline in net property income as compared to its 2019 performance. What is worrying is the performance of Sungei Wang which registers an overall loss in property income. On top of the decline in occupancy and rental reversion, the decline is due to targeted rental waivers and rebates extended to affected tenants.
No doubt that this is a challenging period. Hence, it is definitely interesting to see how the REIT manager will be able to turn things around with a number of leases due for expiry in 2021.
5) Distribution Per Unit of 3 cents per unit down from the previous year
The distribution per unit of CMMT REIT 2020 is 3 cents per unit. This is a dropped from 6.25 cents declared in the previous year. Based on this distribution, this would give investors a dividend yield of 5% based on trading price of MYR 0.60. But of course, there are other factors you should consider apart from purely its yield.
Read More: Why You Should Never Buy A REIT based on its dividend yield
6) Gearing level within the permissible limit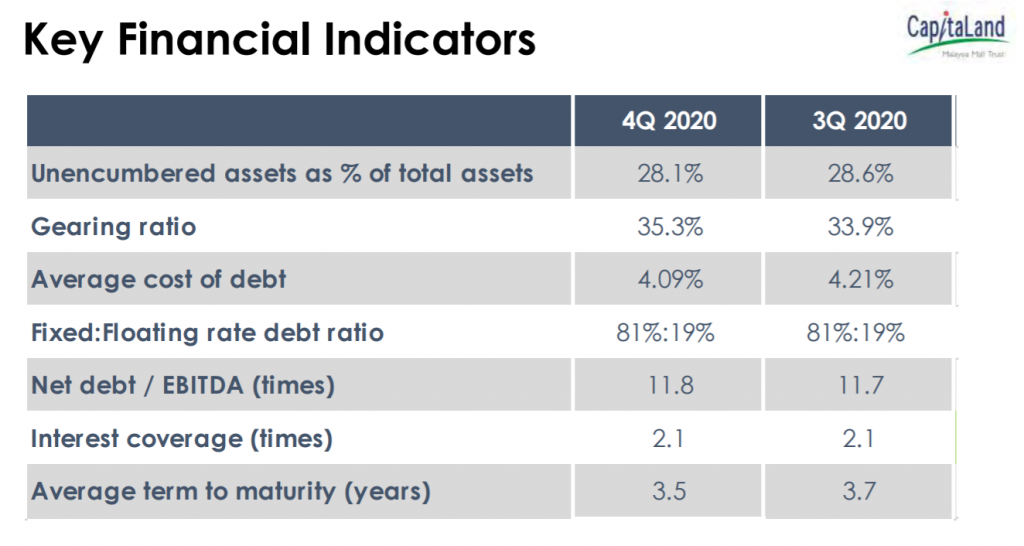 Looking at its debt profile, its gearing level is at 35.3%. This is a slight increase from its 2019 gearing level and 3Q20 level. But nevertheless, this is still within the permissible limit given them ample of debt headroom for future enhancement initiatives or growth exercise which in our opinion is needed to further grow CMMT REIT.
Of its total debt, 81% of it is fixed in nature of which would minimize its interest rate risk. The downside is that it would benefit less from a declining interest rate environment.
Summary
Based on our summary, CMMT REIT 2020 performance has decline operationally and financially mainly fueled by the COVID-19 pandemic. This is on top of its already existing pressure on its properties in the central region. The soon to expiry lease will definitely add further pressure to CMMT REIT in the short to medium term.
What are your thoughts on CMMT REIT 2020 performance? If you are just getting started, feel free to read more of our REIT Guide and REIT Analysis. You can also read more about what REITs are if you are new to REITs.
Do join our community over at Facebook and Instagram.