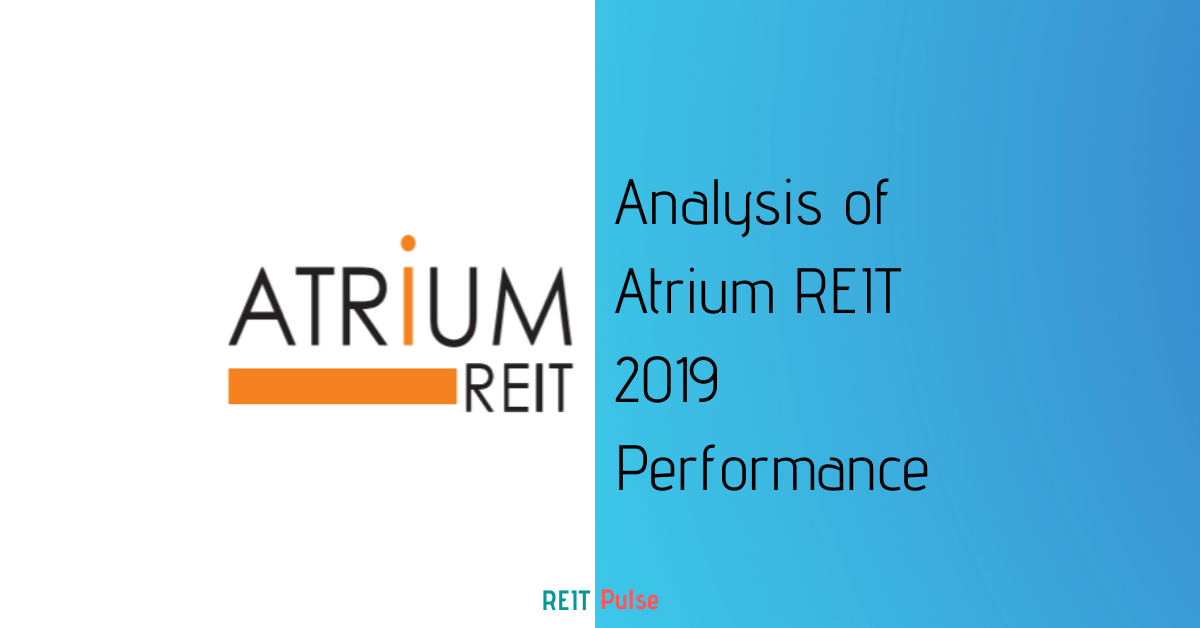 Atrium REIT (KLSE: 5130) is an industrial-focused REIT which was listed on Bursa Malaysia exchange in 2007. As at the date of this analysis, Atrium REIT is traded at MYR 0.91.
Here is a quick background of Atrium REIT for those who are new to this REIT. Atrium REIT owned 6 industrial properties which are solely industrial-focussed. Their property portfolio consists of 5 properties which are located in Selangor and 1 property which is located in Penang which was recently acquired in October 2019.
As at 31 December 2019, its property portfolio is valued at RM410.3 million up from RM154.8 million since their listing in 2007.
There are several aspects of Atrium REIT you should look at before investing but here are 7 Key things you need to know based on their 2019 performance.
1) Strong Portfolio Occupancy Rate
Being an industrial REIT, Atrium REIT enjoys recurring rental income from a few key tenants from the leased of the entire industrial building. There are both upside and downside to this. The upside of leasing to a few major tenants is a stable recurring rental income throughout the lease period. There is not a need to manage and regularly find small tenants to lease.
However, the downside of this is 'concentration risk'. As at 31st December 2019, Atrium REIT leased their building to 8 different tenants. A lost in a major tenant would easily affect the overall performance of the REIT.
Nevertheless, Atrium REIT enjoys 100% occupancy rate from all the 8 tenants with multiple lease expiry.
The ability to maintain a 100% occupancy rate is definitely a plus point for Atrium REIT. Furthermore, the top 3 big tenants, Marelli Motori Asia Sdn Bhd, Samsung SDS and Lumiled Malaysia are strong global brands which we deemed rather stable.
2) Growth in Net Property Income
Net Property Income of Atrium REIT grew from RM17.3 million in 2018 to RM 21.4 million in 2019. This is another great indicator of growth in business. The growth is mainly from the newly acquired Atrium Bayan Lepas 2 in the last quarter of 2019.
Looking at the properties composition below, Atrium Bayan Lepas 2 account for 29% of the overall composition. Going forward, we would expect the revenue for 2020 to further increase as compared to 2019 with the newly acquired building racking in full-year rental income.
3) Triple Net Lease on the new acquisition
The newly acquired property, Atrium Bayan Lepas 2 which is currently the biggest pie in the portfolio composition were on a triple net lease structure. What it means is that the property expenses are borne by the tenant itself rather than the property manager.
We view this as a plus to Atrium REIT with lower property expenses. Depending on how you look at it, triple net lease structure would also mean that the tenant is probably charged a lower base rent.
If you look above, you will notice that the increase in property expense is marginal compared to the increase in revenue in 2019. This would translate to a higher net property income and potentially a better DPU.
4) Declining distribution per unit (DPU)
For most investors, DPU is probably a huge factor taken into consideration before investing in a REIT. If we look at the DPU history, there is a dip in DPU in both 2016 and 2019. However, if you look into the events below, you will understand why:
One-off gain on disposal of Atrium Rawang in 2015 which push up the DPU in that year
In 2015, there is a one of gain on disposal of one of their properties, Atrium Rawang which result in a gain of RM 4.3 million or approximately 3.5 cents (RM4.3mil divided by no. of unitholders 121,801,000).
Excluding this one-off gain, the approximate adjusted DPU for 2015 from our point of view to be at 4.75 cents. This denotes that the DPU from operations is increasing from 4.75 cents in 2015 to 8.10 cents in 2018.
Enlarged share base in 2019
The decline in DPU in 2019 is due to the enlarged share base from 121.8 million in 2018 to 204.6 million in 2019 from the placement and right issue issued in conjunction to the acquisition of Atrium Bayan Lepas 2.
This would also mean that the enlarged share base from the acquisition of the new property has not been fully reflected with the corresponding property income earned for the full year given the completion of acquisition only in the October 2019 (1 quarter).
We would expect the DPU to rise in 2020 with the full rental income for Atrium Bayan Lepas 2. Let's see. At the current trading price of 0.91, this would give us a dividend yield of 7.29%.
5) Gearing at a reasonable level with increasing finance cost
Gearing level of Atrium REIT is at 39.2% as at 31st December 2019 which is below the 50% gearing limit which is acceptable. It still has debt headroom for future asset enhancement activities and acquisition before hitting the regulatory limit of 50%. Personally, we would prefer REIT which are below 45%.
Finance cost has increased from the increase in borrowing mainly from the RM87 million floating-rate borrowing to finance the acquisition of the property in Penang. This loan will be repayable in 2029.
The announcement by Bank Negara Malaysia would potentially be favourable to Atrium REIT given that their borrowings are floating rates.
6) Price to Book ratio below 1
Price to book ratio of 1 is a great indicator of an undervalued REIT. As at 31st December 2019, Atrium REIT has a net asset value (NAV) of RM1.26. Historically, the traded price had also been below the NAV.
Based on the current trading price of RM0.91, the price to book ratio is at 0.72. This REIT look undervalued as at this date of analysis. We will let you assess if the stock is fundamentally strong or bad.
7) Growth Opportunities
As at 31st December 2019, they have entered into 2 conditional SPA agreement for the proposed acquisition of 2 pieces of land in Penang with an agreement to lease the property to Lumileds Malaysia for a period of 15 years and another proposed acquisition of 2 pieces of land in Selangor.
Cumulatively, this would increase the asset under management to RM 505.3 million and hopefully an increase in DPU.
Summary
In terms of prospect for Atrium REIT,
In 2020, our expectation would be an increase in net property income and DPU with the full result of Atrium Bayan Lepas 2 kicking in.
A reduction in interest rate by Bank Negara Malaysia would be potentially favourable to them as the majority of their loan are secured facilities based on floating rates. We shall see if this is the case when the quarterly result is released.
Similarly, the management has entered into 2 SPA agreement for 2 proposed acquisition in Selangor and Penang which would further enhance the earning opportunity of Atrium Reit.
The management is expecting the global economy outlook to be uncertain with the outbreak of the pandemic novel coronavirus (Covid-19) spreading globally. We shall see if there is any significant impact to Atrium REIT result but given the nature of the REIT in the industrial sector, we would expect lesser disruption as compared to retail-based REIT.
That's it for our analysis on Atrium REIT. What is your take on Atrium REIT? Share your thoughts with us at the comment below.