Lendlease Global Commercial REIT is a Singapore-based REIT with assets primarily in the retail and office sector. They have 2 key assets in their portfolio being 313 Somerset which is located in Singapore and Sky Complex located in Milan. Both these 2 properties are wholly owned by Lendlease Global Commercial REIT. Apart from these 2 properties, Lendlease Global Commercial REIT also have a 5% strategic stake in Jem Mall.
In this post, we will look into Lendlease Global Commercial REIT FY20 performance to see how it has performed.
Read More: 7 Key Things You Need To Know of Lendlease Global REIT FY20 Performance
1. Strategic stake in Jem via 5% interest in Lendlease Asian Retail Investment Fund 3
Lendlease Global Commercial REIT had acquired a 5% stake in Jem via Lendlease Asian Retail Investment Fund 3 in October 2020. This arrangement allows Lendlease Global Commercial REIT rights and the opportunity to potentially increase its strategic​ stake in the Jem over time. ​The acquisition was funded fully with cash and is accretive to its distribution per unit. The acquisition is a plus as investors will benefit from greater income diversification based on the office (35% by NLA) and suburban retail (65% by NLA) components of Jem.​
2. Occupancy rate of both 313 Somerset and Sky Complex remain strong
| | | | |
| --- | --- | --- | --- |
| Occupancy Rate | FY19 (IPO info) | FY20 | 1H21 |
| 313 Somerset | 99.6% | 97.8% | 98.7% |
| Sky Complex | 100.0% | 100.0% | 100.0% |
| Average | 99.9% | 99.5% | 99.7% |
The occupancy rate despite a slight drop in FY20 to 99.5% has slightly improved in 1H21 to 99.7%. This slight increase is mainly attributable to the performance of 313 Somerset where they have secured new tenants such as Paris Baguette, Skechers, and Josh's Grills.
Sky Complex which is currently leased to Sky Italia continues to enjoy an occupancy rate of 100%. The current lease is for a term of 12 + 12 years with a lease expiry in May 2032. This is definitely a plus point as it provides investors with a stable income over the lease term. Sky Italia is a British satellite television operated by Sky in Italy. It is a subsidiary of Comcast Corporation company (NASDAQ: CMCSA) which is global media and technology company. Hence, it is without a doubt a strong and reputable company.
Not only that, the arrangement with Sky Italia is entered through a triple net lease arrangement. This would minimize the operational cost and risk for Lendlease Global Commercial REIT given that the tenants would pay all the expenses of the property such as property maintenance, taxes, and insurance.
3. Financial Performance improved due to better performance of 313 Somerset
| | | |
| --- | --- | --- |
| SGD in 000s | 1H20 (Annualised) | 1H21 |
| Gross Revenue | 40,326 |                  41,608 |
| Net Property Income |                       29,905 |                   30,393 |
Looking at the financial performance of Lendlease Global Commercial REIT, it has overall improved. The net property income increased from SGD 29.9 million in 1H20 to SGD 30.4 million in 1H21. This is mainly attributable to the better operational performance of 313 Somerset in 1H21 which is evident from the improved occupancy rate. In addition to that, the stronger Euro against Singapore Dollar has also resulted in higher revenue to Lendlease Global Commercial REIT.
4. Distribution per unit of SGD 2.34 cents in 1H21
In terms of its distribution per unit, Lendlease Global Commercial REIT declared a 2.34 cents distribution in 1H21. This is a 0.8% increase when compared to the annualized 1H20 distribution. The slight improvement is due to the better performance of 313 Somerset in 1H21.
Based on the current traded price of SGD 0.72, this would give investors and annualize dividend yield of 6.5%. We will let you decide if this is worth investing in.
Read More: Why you should never buy a REIT just because they have a high dividend yield
5. Overall healthy debt profile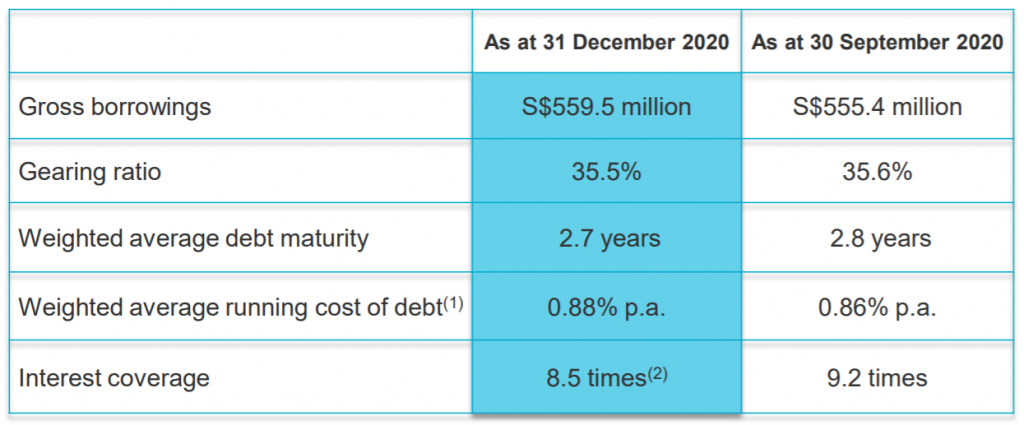 Now that we have covered most of the important aspect of Lendlease Global Commercial REIT, let's quickly dive into its debt profile. As at 31 December 2020, they have a total gross borrowings of SGD 559.5 million. This would translate to a gearing ratio of 35.5% which is below the permissible limit. This would give then ample debt headroom for further asset acquisition and asset enhancement initiative.
Apart from that, the interest coverage ratio is fairly healthy at 8.5 times.
Summary
Based on our overall analysis, they have performed relatively well in 1H21. Both its operational and financial performance has been strong as compared to the preceding half. Furthermore, with the gradual easing measure of COVID-19 restrictions, this would potentially be added great news to them. The newly acquired stake of Jem Mall is in our opinion a great addition to their portfolio. This would give them a greater avenue room for growth.
What are your thoughts on Lendlease Global Commercial REIT 1H21 Performance? If you are just getting started, feel free to read more of our REIT Guide and REIT Analysis. You can also read more about what REITs are if you are new to REITs.
Do join our community over at Facebook and Instagram.