First REIT (SGX: AW9U) was listed on the SGX on 11 December 2006. Being a healthcare REIT, their focus is on investing in diverse yield-accretive healthcare-related real estate assets throughout Asia. Presently, they owned 20 real estate assets with presence across Indonesia, Singapore and Korea. As at the date of this analysis, they are trading at SGD0.74.
In this post, we will be sharing on the key things you need to know on First REIT 2019 performance.
1) Presence concentrated in Indonesia
Though First REIT has presence across 3 countries, their healthcare real estate assets are mainly concentrated in Indonesia with 95.7% of their revenue relating to their Indonesia properties. This makes up of 16 out of the 20 properties they owned.
The underlying healthcare properties in Indonesia are mainly operated by PT Siloam International Hospitals Tbk ("Siloam"). With that, it posed a high tenant concentration risk.
The top 2 tenants, PT Lippo Karawaci and PT Metropolis both make up approximately 94% of First REIT tenant composition. The over-reliant on the operator can be potentially detrimental to First REIT in the event where the operator suffers a liquidity or default risk.
2) Triple Net Lease Arrangement
A positive aspect of First REIT is that the lease entered with the tenants are at a triple net leases arrangement. With a triple net lease, the tenant agrees to bear certain operating costs such as building insurance and maintenance in addition to rent and utilities.
Given that a number of expenses are borne by the tenants. This would minimize the fluctuation of expenses since the expenses are mainly borne by the tenants.
Looking at the statement of total return, you will notice that the proportion of expenses to the revenue are comparably small.
3) Minimal Forex Exposure
Another key thing to know of First REIT is their forex management of the leases given their presence in Indonesia, Singapore and South Korea.
The leases in Singapore are denominated in SGD.
Leases in Indonesia which makes up the biggest chunk are pegged to SGD to mitigate forex volatility.
Leases for South Korea property is denominated in USD.
Going forward, it would be uncertain if the lease in Indonesia will be renewed at similar terms given the fact that it is not in favourable terms to the tenants. Which happen to have huge leverage over First REIT with their huge concentration.
4) Stable financial performance
First REIT has a relatively stable growth in revenue and net property income. It has grown its revenue from SGD100.7 mil in FY15 to SGD116.2 mil in FY18 with a slight dip to SGD115.3 mil in FY19.
The marginal dipped of 0.8% in FY19 was mainly due to lower variable rental component for Indonesian properties.
To better understand the lease agreements entered into, we note that it consists of two components. The first being an annual base rent which is subject to increase every year. The second component is the variable rent which is calculated based on a percentage of the growth of the tenant gross revenue in the preceding calendar year.
Given the increase in demand in the healthcare industry due to the development of COVID-19, this could be potentially favourable to First REIT.
5) Stable Distribution Per Unit
Distribution per unit of First REIT has been stable growing from 8.30 cents in FY15 to 8.60 cents in FY19. Based on their 2019 closing price of SGD0.995, that would give investors a yield of 8.6%.
6) Borrowings and Gearing
As at 31 December 2019, First REIT has total borrowings of SGD492.7 mil which work out to an approximate gearing of 34.5%. That is still within the 45% limit allows by MAS. This provides First REIT with the debt headroom to borrow as a way to fund new acquisitions for future growth.
Further, their interest rate on borrowings is variable in nature which would subject them to interest rate risk. In managing the interest rate risk, they have entered into interest rate swaps.
7) Lease Expiry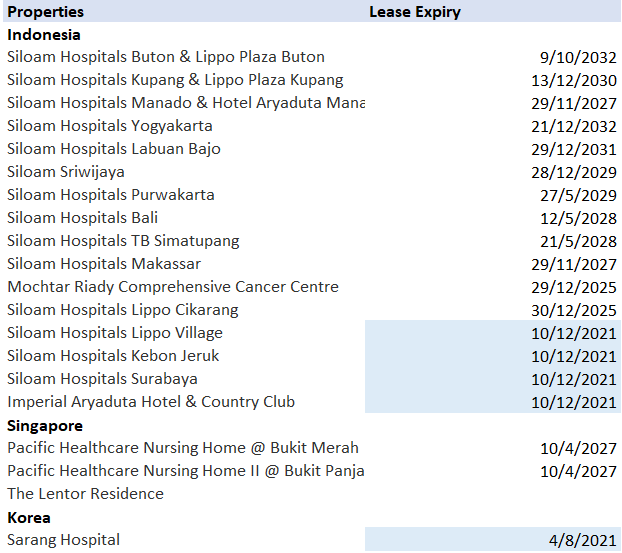 Out of 20 leases entered with various tenants, there are 5 leases which are due for renewal in 2021. This would be an area to follow closely on whether:
The renewal was made with a positive rental reversion.
If there is a change in the terms of pegged currency for Indonesia leases given that the economic outlook is not favourable now.
8) Price to Book Ratio
The NAV of First REIT is at SGD0.9964 as at 31st December 2019. Based on the 2019 closing price of SGD0.995, that would come up to a price to book ratio of close to 1. We will let you decide if this is worth buying.
Summary
First REIT has been a stable growing REIT since its inception. However, its share price has fell late-2018 due to fears of default from its Indonesian sponsor, Lippo, which had suffered a credit downgrade at that time. Though the situation has eased a little, there is definitely uncertainty in regards to the growth of First REIT. There a number of areas which are favourable to First REIT now such as currency pegged to SGD. The uncertainty lies on what will happen to the existing leases upon the expiry.
That's it for our analysis on First REIT. What is your take on First REIT? Share your thoughts with us at the comment below.
If you like this analysis, here is more REIT analysis.