Al-Aqar REIT (KLSE: 5116) is a healthcare REIT which is traded in the Bursa Malaysia stock exchange since 2007. As at the date of analysis, Al-Aqar REIT is traded at MYR 1.38.
If you are new to this REIT, Al-Aqar REIT is the only healthcare REIT to be listed in the Malaysia stock exchange as at today. They invest in income-producing real estate and medical-related real estate assets, used primarily for healthcare and/or healthcare-related purposes.
Their primary assets location is located across Malaysia with a property in Australia. When healthcare REIT first struck us, the first thing we could think of would be hospitals. Which is one of the asset class in Al-Aqar REIT portfolio. But here is an interesting part about AL-Aqar REIT which we did not know. Apart from hospitals and retirement home, their portfolio also includes medical/nursing colleges.
Here is the breakdown of the property composition.
Al-Aqar REIT owned 23 properties as at 31st December 2019 with 92% of the property's composition located in Malaysia. The assets owned are leased to medical-related entities which are mostly (or all) under the member of KPJ Healthcare Berhad which is a Malaysia leading provider of private healthcare services.
As at 31 December 2019, its real estate portfolio is valued at approximately RM1.57 billion.
1) 100% Occupancy Rate as at 31st December 2019
Al-Aqar REIT performance is heavily reliant on KPJ Healthcare Berhad. As at 31st December 2019, they enjoy 100% occupancy rate.
We have summarized the lease expiry as below. The 5 leases in Malaysia which are due for renewal on 1st March 2020 would have been renewed by now. We will have to wait for the quarterly update on the lease renewal on these leases and if there is any reversion in lease rental.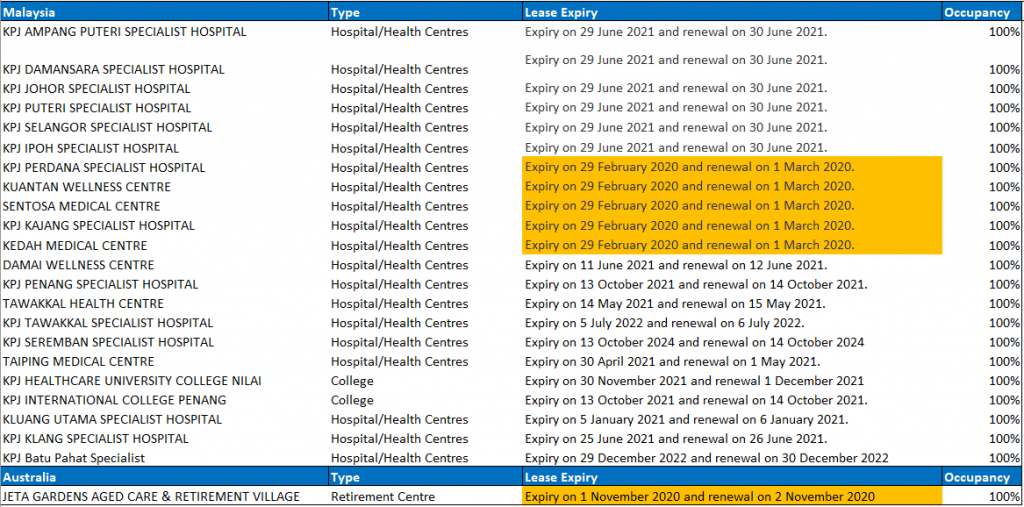 The lease that would be of our attention would be the lease of Jeta Gardens which happen to bring in the highest rental income as compared to the remaining individual assets in the portfolio. From the annual report 2019, we have noted the following statement from the management on the Australian government's announcement on the overall aged care industry practice in which the management of Jeta Gardens is currently monitoring the impact on the findings which are expected to be issued on November 2020.
We are unsure how this statement will impact Jeta Gardens and in return affect Al-Aqar Reit. This would be a question mark till then.
2) Growth in Net Property Income
Net Property Income increase from RM 96.6 million in 2018 to RM 100.3 million in 2019 mainly from the full rental income received upon settlement of the KPJUC Balance Purchase Consideration in November 2018 as well as an annual increment on rental income.
Looking at a 5-year horizon, we note a decline in NPI from 2015 to 2017 due to the disposal of Selesa Tower. On a high-level glance, it appears that if we exclude the performance from the disposed properties, the NPI would still be in an increasing trend.
3) Stable distribution per unit (DPU)
DPU is stable at approximately 7.70 cents throughout the past 5 years. As at the traded price of 31st December 2019, this would give investors a dividend yield of 5.87%. In December 2019, Al-Aqar REIT has completed the acquisition of KPJ Batu Pahat Specialist, DPU would most likely increase as the rental income from the resulted acquisition kicks in.
4) Significant increase in trade receivables
While we were reading the 2019 annual report, we notice a significant increase in trade receivables from RM2.2 million in 2018 to RM13.3 million in 2019. If you read further, you would have noted that the majority of the outstanding receivables overdue are denominated in Australian dollars with RM 8.4 million outstanding as at 31st December 2019.
Management explained that no impairment was made as there is no change in the credit quality of the tenant. The question is whether there is any liquidity issue or unfavourable circumstances in relation to Jeta Garden given that the receivables are only RM1.0 million in 2018 but nevertheless, they are a member of KPJ Healthcare Berhad which is a listed company. This would be an area we would be looking at in the quarterly report.
5) A slight increase in gearing level but still within the required guideline
Gearing level of Atrium REIT is at 40.82% as at 31st December 2019 up from 38.19% in 2019. This is still below the 50% regulatory limit. It still has debt headroom for future asset enhancement activities and acquisition before hitting the regulatory limit of 50%.
Of the total borrowings, 84% are at a fixed rate and will not be subject to any change in overnight policy rate (OPR). The remaining 16% of the borrowings are at a fixed rate. Due to the nature of the borrowings, there is an exposure to interest rate risk. Al-Aqar REIT has benefitted from the recent Overnight Policy Rate (OPR) cut by 0.25% in May 2019 through immediate interest rate adjustment for its floating rate borrowings.
Going forward, Al-Aqar would further benefit from the additional reduction in OPR which was announced on March 2020.
6) Price to Book ratio above 1
The NAV of Al-Aqar Reit is at 1.3 as at 31st December 2019 with market price of 1.32 giving a price to book ratio of slightly above 1. Based on historical data, the price to book appears to be above 1 since 2010 which means you might need to wait quite some time for the price to book to fall below 1. We will let you decide if this is worth buying or is the REIT is overvalued.
Summary
A few question mark areas would be on the impact on the Royal Commission finding and how it affects the portfolio in Australia. Further, we would be interested in whether the trade receivables balance decrease in quarter 1 of 2020.
In our own opinion, Al-Aqar REIT appears to be having a relatively stable recurring income as well as DPU. Gearing level is at a comfortable range for further enhancement and acquisition activities. Their performance, however, would likely depend on the performance of KPJ Healthcare Berhad. Given the outbreak of COVID-19, it would probably impact Al-Aqar REIT minimally given the demand for healthcare.
That's it for our analysis on Al-Aqar REIT. What is your take on this REIT? Share your thoughts with us at the comment below.