Prosperity REIT is a REIT listed in the Hong Kong stock exchange with 7 office and industrial buildings in their portfolio. There are managed by ARA Asset Management which is a leading APAC real estate fund manager with assets across 28 countries.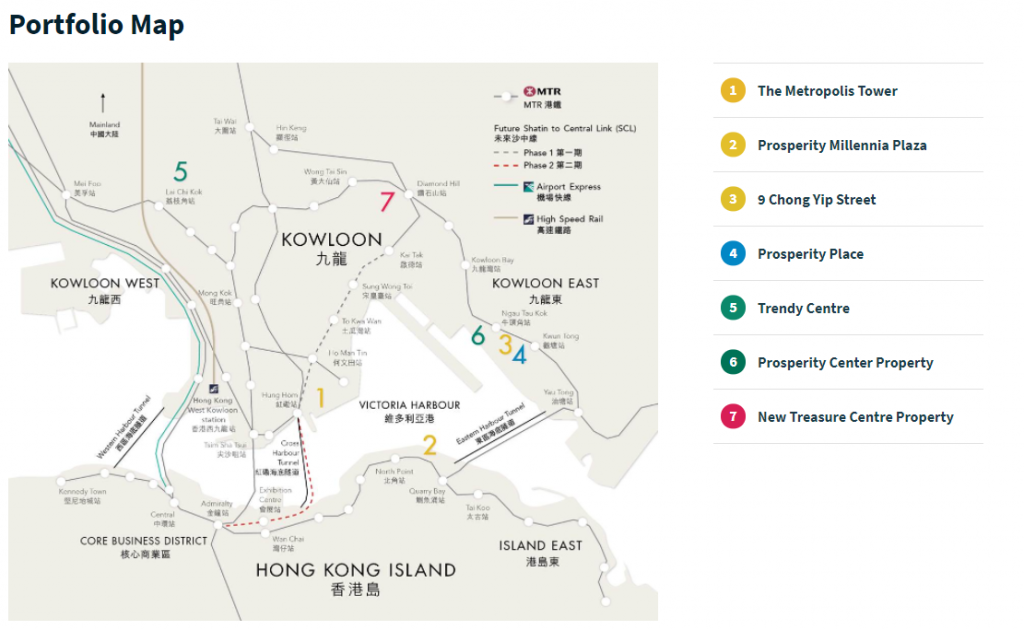 Their assets are mainly located in the decentralized business districts of Hong Kong with a total rentable area of 1.28 million square feet. These comprises of 3 grade A office buildings, 1 commercial building, 2 mixed industrial and office buildings and 1 industrial building.
With a year of challenges on the backdrop of US-China trade tension and COVID-19 pandemic, we will dive deeper into Prosperity REIT FY20 and 1H21 performance
Historical Performance (FY18 to FY20)
1) Slight decline in overall occupancy rate with a reported negative rental reversion in FY20
| | | | |
| --- | --- | --- | --- |
| | FY18 | FY19 | FY20 |
| Occupancy rate (%) | 97.6% | 97.3% | 96.1% |
| Rental reversion rate (%) | 7.2% | 7.4% | -4.4% |
Despite the economic uncertainty in Hong Kong, Prosperity REIT was able to attain a stable occupancy rate of 96.1% as at 31 December 2020. While this is a slight drop from 97.6% in FY18 to 96.1% in FY20, the average occupancy rate of Prosperity REIT is at a fairly healthy level.
The unfavourable aspect is the overall drop in rental reversion which come to no surprise. Rental reversion in FY20 is at a negative 4.4% which is a direct result of the overall market outlook. Nevertheless, the ability to sustain the occupancy rate is no doubt commendable.
2) Revenue declined by 2% in FY20
| | | | |
| --- | --- | --- | --- |
| HKD in mil | FY18 | FY19 | FY20 |
| Revenue |          447 |          462 |          453 |
| Net Property Income |          351 |          366 |          358 |
Revenue of Prosperity REIT declined from HKD 462 mil in FY19 to HKD 453 mil in FY20. This decline is mainly attributable to overall negative rental reversion in FY20 coupled by the slight deline in overall occupancy rate. With COVID-19 remain uncertain, we would expect the performance to be unfavourable in the short to medium term.
3) Prosperity REIT reported a distribution yield of 7.4% in FY20
| | | | |
| --- | --- | --- | --- |
| HKD | FY18 | FY19 | FY20 |
| Distribution per unit |       0.181 |       0.183 |       0.179 |
In FY20, Propserity REIT has reported a distribution per unit of HKD 0.179 which is a slight decline from HKD 0.183 in FY19. This decline is in line with the overall drop in financial performance in FY20. Based on its closing traded price in FY20, this would give investors and distribution yield of 7.4%. We will let you decide if this is worth investing in.
Read More: Why you should never buy a REIT just because they have a high dividend yield
4) Healthy gearing level
| | | | |
| --- | --- | --- | --- |
| | FY18 | FY19 | FY20 |
| Gearing (%) | 20.60% | 20.30% | 22.30% |
As at 31 December 2020, its total borrowings as a percentage of Prosperity REIT's gross assets was at 22.3% as at 31 December 2020. This is a fairly healthy level way below the permisible limit giving them ampel debt headroom for further acquisition and asset enhancement initiatives.
In regards to interest rate risk, all its facilities bear interests at a variable rate. As such, Prosperity REIT has entered into an interest swap arrangements to mitigate the impact of interest rate fluctuations. As at 31 December 2020, c.70% of its loans ae hedged exposing the remaining 30% to interest rate risk.
1H21 Performance
5) Operational and financial performance continues to decline in 1H21

Looking at its 1H21 results, its operational and financial performance continues to decline. While the occupancy rate was stable at 96.0%, Prosperity REIT has reported a negative rental reversion. This in turn has resulted in an overall decline in revenue from HKD 229 mil in 1H20 to HKD 224 mil in 1H21.
Summary
Based on our overall analysis, Properity REIT has been performing relatively okay in the backdrop of a number of uncertainties. Despite reporting negative rental reversion, they have managed to secure an fairly healthy occupancy rate. Financial performance has declined as a result of theuncertainty of COVID-19 pandemic. We would expect this to continue in the short to medium term as a result from the COVID-19 pandemic.
What are your thoughts on Prosperity REIT FY20 and 1H21 performance? If you are just getting started, feel free to read more of our REIT Guide and REIT Analysis. You can also read more about what REITs are if you are new to REITs.
If you are looking for a brokerage account, Tiger Brokers is currently offering a deal of a lifetime that you might not want to miss.
Registration: 500 Coins
Account Opening: 60 Commission-Free Trades within 180 Days (Applicable for U.S. stocks, H.K. stocks, Singapore stocks and Australian stocks )
Funding your account with more than ≥ SGD 2,000: 1 FREE Apple(NASDAQ: AAPL)share
Do consider using our link and promo code "REITPULSE" as this will support our blog while earning some rewards. Likewise, you can read more on our reviews on Tiger Brokers.
Do join our community over at Facebook and Instagram.