Blog
REIT Guide
Tiger Brokers Review: Affordable and Comprehensive Brokerage Platform
It has been more than 1 year since the launch of REIT Pulse. Despite sharing a number of REIT investing guides and analyses into the Singapore and Malaysia market, we have received a number of DMs and queries on how to get started. Choosing and selecting the right brokerage platform is always a daunting process with a vast number of choices available. Hence, in this article, we will be discussing and sharing our reviews on Tiger Brokers, one of the best investment brokerage platforms that will help you get started.
This is particularly interesting for those who are looking to invest in REITs in foreign markets such as Singapore, Hong Kong, United States, Australia and etc. As an investor, there are few factors that are key in deciding which brokerage to choose.
Affordable Fees
Accessibility to Global Markets
Comprehensive Platform
Regulated and Reliable Platform
We have been using Tiger Brokers for a while now and it has been an amazing experience. To those who are new to Tiger Brokers, we hope the remaining part of this post will help you decide if Tiger Brokers is for you. At the end of the article, we will be sharing more on how you can get 1 FREE Apple share opening and funding your account.
Gettting to know Tiger Brokers
Started out as just a startup based in Beijing based in June 2014, Tiger Brokers allow investors to trade various instruments such as stocks, ETFs, futures, options, and warrants in multiple stock exchanges.
They are backed by a prestigious group of shareholders, including Interactive Brokers, Xiaomi, ZhenFund, and noted investor Jim Rogers. Not only that, Tiger Brokers has also been recognized for its innovative trading platform and has been named to KPMG's Fintech 100 and C.B. Insights' List of Unicorn Companies.
Despite being founded just back in 2014, they are already profitable and had been listed on the NASDAQ stock exchange under the ticker symbol TIGR. Tiger Brokers has offices in Singapore, New York, Beijing, Auckland, and Sydney.
Today, Tiger Brokers is one of the rising brokerage firms due to its competitive pricing.
Is Tiger Brokers reliable and regulated?
The key question is whether Tiger Brokers is reliable and regulated. The last thing we want is to invest our hard-earned money into a platform that is not regulated and unreliable.
When it comes to the reliability and regulatory aspect of Tiger Brokers, investors can have peace of mind. Just looking at operations nearby, Tiger Brokers is well regulated by the Monetary Authority of Singapore and is authorized to operate in Singapore. 
Apart from that, they presently hold brokerage licenses in The U.S., New Zealand, and Australia. Hence, investors can be sure that Tiger Brokers is a brokerage that is well regulated by proper authorities.
You can read more on its regulatory information over at its website
What About Stock Custody and Security?
Investment via Tiger Brokers is held through a trust account on your behalf by a custodian bank or brokerage firm. Depending on the market they operate it, Tiger Brokers engage a different licensed brokerage firm to manage your investments. These brokerage firms are regulated by the authorities in the US, Hong Kong and Singapore.
This means that there is a segregation of clients' capital and assets apart from Tiger Brokers' own funds. Unlike the other brokerages operating in Singapore, Tiger Brokers does not have a custodian license and has to rely on a third-party broker or bank.
Investors' Capital: Deposited with DBS Bank Ltd
Investors' Asset:

Singapore Stocks: Held by DBS Custodian Bank
US Stocks: Held by Interactive Brokers
HK Stocks: Held by Interactive Broker
Features of Tiger Brokers
Let's look at some of the key features of Tiger Brokers which does not disappoint.
Exposure to multiple stock exchanges globally such as:

Singapore Stock Exchange
NASDAQ
New York Stock Exchange
American Stock Exchange
Hong Kong Stock Exchange
Shenzhen Stock Excange
Shanghai Stock Exchange
Australia Stock Exchange
Various financial instrument such as options and futures.
Options to invest through desktop and mobile.
100% online account opening & management.
Modern user interface allows you to view real-time market data seamlessly.
Fully customizable indicators enable clients to analyse the market easily.
Access to information
Another key aspect that deserves a section of its own is the vast amount of research and resources available to investors. Investors have access to multiple levels of information which is sort of similar to TD Ameritrade. This is a crucial feature as it keeps investors informed.
Daily Stock News and Aggregator
Over at the overall news aggregator tab, the platform aggregates daily breaking news for investors. This is perfect for getting at a glance view of daily news in the various markets. The amazing part is that you can even create a stock watchlist and aggregate news from the list.
Stock Information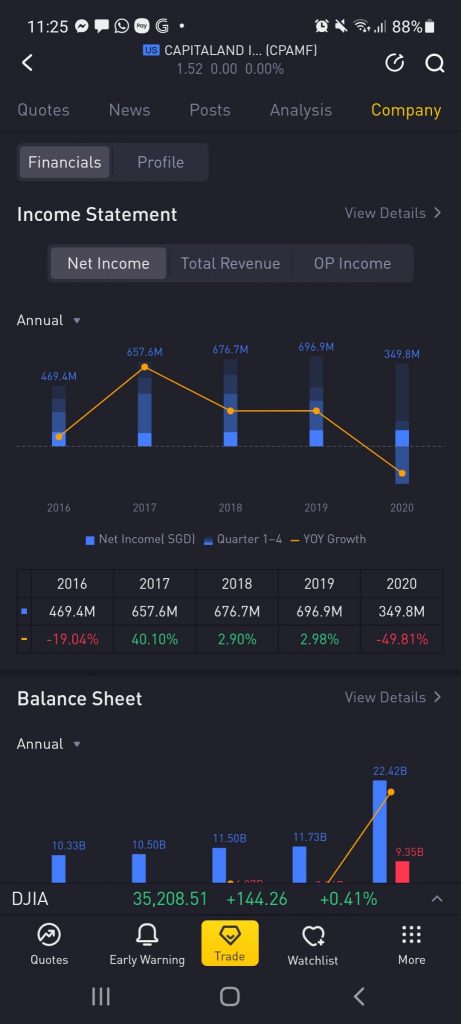 Apart from that, investors can also gain access to stock-related information that will help investors get to know the stock better. Information such as stock price, financial ratios, charts, analysis, and financial information of the company's such as income statement and balance sheet.
Not only that, the platform also aggregates all the news at the stock level to help investors learn more about the specific stock.t
Fees and Comparison (BEST Pricing in the market)
Markets
Tiger Brokers Fees
Remarks
US Market
US 0.01 per share (Minimum amount: US$ 1.99)
One of the best after TD Ameritrade (0 commission on shares). However, the account opening process is lengthy and slow.
HK Market
0.06% of the value (Minimum of HKD 15/trade)
Best rate in the market as per our research at the time of writing.
– POEMS: 0.08% (Minimum HKD 30/trade)
– Interactive Brokers: 0.08% of trade value (Minimum HKD 18/ trade)
AU Market
0.1% of the value (Minimum of AUD 8 /trade)
Interactive Brokers offers a slightly more competitive rate
– Interactive Brokerage: 0.08% of trade value (Minimum of AUD 6/ trade)
SG Market
0.08% of the value (No minimum)
One of the best with no minimum fee. Most brokerage charge a minimum fee.
– POEMS: 0.08% (No minimum)
China Market
0.06% of the value (Minimum of CNH 15/trade)
Best rate in the market as per our research at the time of writing.
– Interactive Brokers: 0.08% of trade value (Minimum CHN 15/ trade)
Check out Tiger Brokers Pricing table to learn more about the fees structure
From the table above, Tiger Brokers offers one of the most competitive pricing in the market. You can read more about their pricing structure.
Opening your account
Setting up your brokerage account is fairly simple. For those who are residing in Singapore, Tiger Brokers has integration with Singapass and MyInfo which allow you to open the account in under 15 minutes. However, for those who choose to do it manually or are residing elsewhere, here are the information needed depending on your location.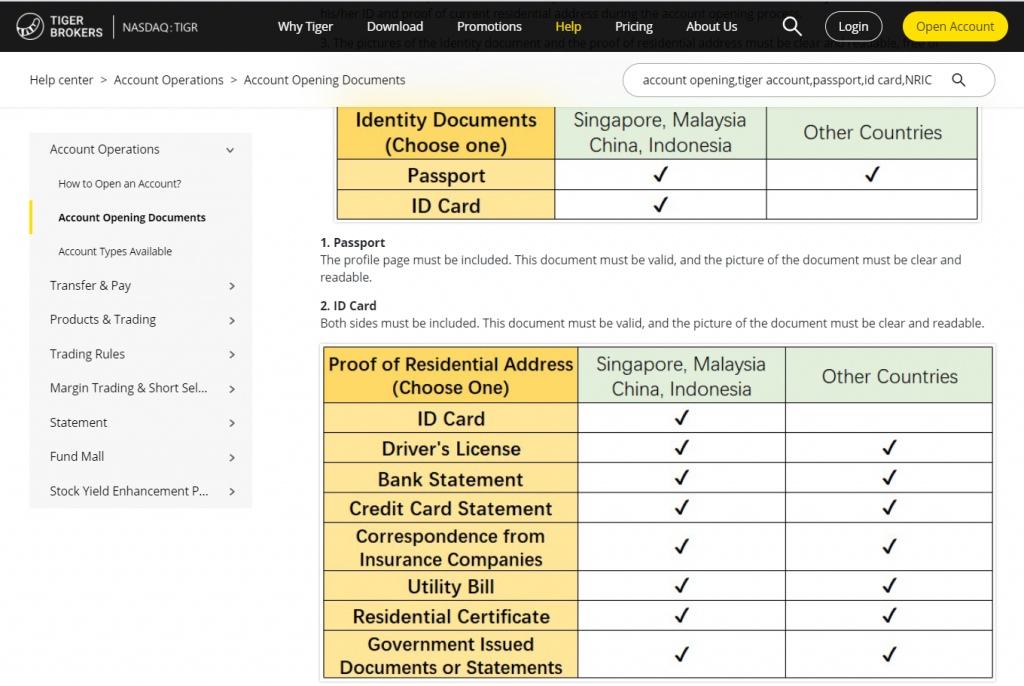 This is a fairly simple and straightforward process with clear gudiance on the process.
Funding your account
Funding account can be a slightly complicated process. For individuals with Singapore bank account, this is a fairly simpe and cost effective process. You can fund your account through a Singapore bank account for a ZERO FEE.
If you are funding your account from a non-Singapore bank account, Tigers currenly only accept bank transfer and Telegraphic Transfer to deposit funds. Depending on the mode of transfer, this will take from immediate to up to 3 days but do note that the deposits will only be processed durng working hours.
Should you consider Tiger Brokers
Now that you have learnt more about the platform, should you consider Tiger Brokers? Based on our experience, there are definitely some improvement areas that we wish to see from Tiger Brokers. Nevertheless, Tiger Brokers is no doubt one of the best brokerage platform out there in our opinion.
They offer one of the best competitive rates in the markets which give investors exposure to global markets (though would be great if they offer exposure to more markets). Tiger Brokers is not an unknown brokerage firm which was launched over night. They are licensed and heavilily regulated. Not only that, the platform offers amazing resources that would complement your overall investment experience.
1 FREE Apple Share and 60 Commission Free Trades Promotion
If you find this useful and am planning to open an account, do consider using our referral link with promo code "REITPULSE". Tiger Brokers are currenly offering a deal of a lifetime which you might not want to miss.
Registration: 500 Coins
Account Opening: 60 Commission-Free Trades within 180 Days (Applicable for U.S. stocks, H.K. stocks, Singapore stocks and Australian stocks )
Funding your account with more than ≥ SGD 2,000: 1 FREE Apple(NASDAQ: AAPL)share
To put things into perspective, the current traded price of Apple is USD 146. Will leave it to you to do the math.
If you are already plannng to open your account anyway, do consider using our link as this will support our blog while earning some rewards.
REIT Pulse is a platform where you can learn more about REIT Investing. If you are just getting started and would like to learn more, feel free to read more of our REIT Guide and REIT Analysis. You can also read more about what REITs are if you are new to REITs.
Do join our community over at Facebook and Instagram.