MQREIT or also known as MRCB Quill REIT is a REIT that invests primarily in commercial, office, car park and retail properties. MQREIT owns a total of 10 properties including the property they are proposing to dispose of. A few months back, we wrote a post on its performance in FY19. In that post, we noted that MQREIT performance has been declining in terms of its operational and financial performance. Distribution per unit has also been declining.
Since then, there have been a number of events that have taken place. Hence, in this post, we will be looking more into MQREIT 3Q20 performance and some of the events that happen.
1) Disposal of Quill Building 5
We will start out with this key event which was announced on 12 November 2020. This is in regards to the proposed disposal of Quill Building 5. For those who have read our previous post on MQREIT FY19 performance, the occupancy rate for this particular asset has been declining from 78% in FY17 to 56% in FY18 and being completed vacant in FY19.
This is definitely one of the few properties which have contributed to the overall decline in the performance of MQREIT. As such, this disposal might be favourable to MQREIT. Furthermore, the disposal will generate an overall positive gain.
The disposal is good as it would help rejuvenate the holdings of MQREIT. Looking at the vacancy status, it would make financial sense to dispose of it given that it does not yield any income for the investors. The capital can be redeployed for other asset enhancement initiatives and future investments plans.
The expected completion date of this disposal will be on 2nd quarter of 2021.
2) Overall Improvement in YTD financial performance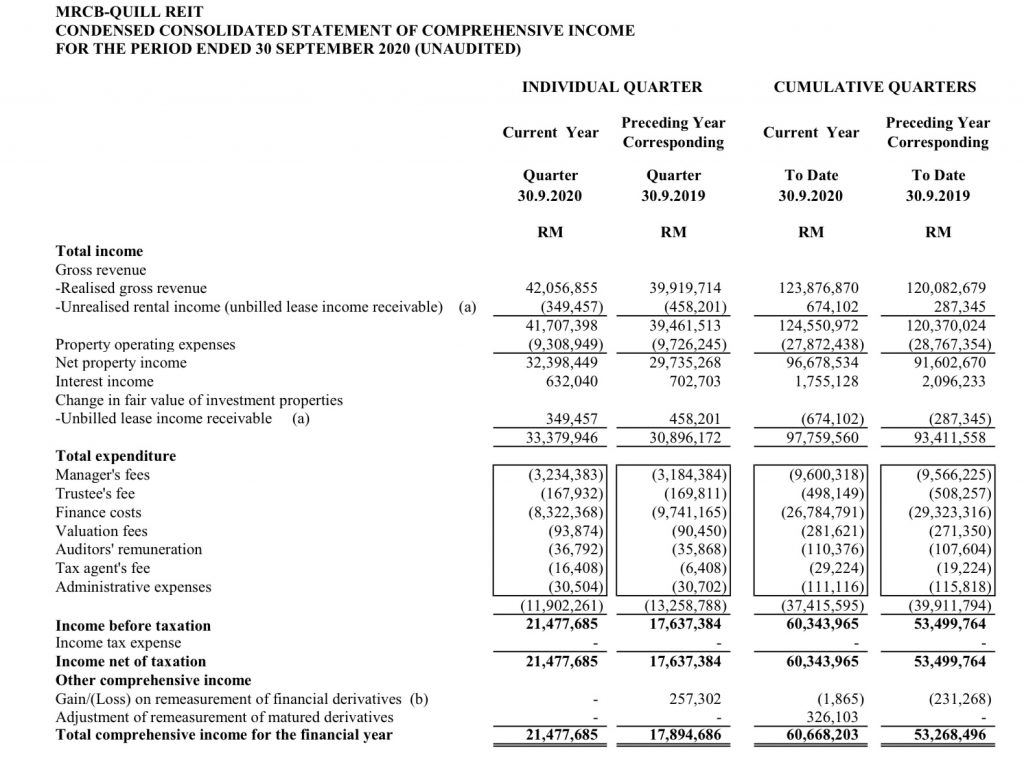 Looking at MQREIT 3Q20 financial performance, it has performed fairly well YTD20. Based on its historical financials, its overall net property has declined from FY17 to FY19. However, if we were to look at its 3Q20 year to date performance, its overall net property income increased to MYR 96.7 mil in YTD3Q20 as compared to MYR 91.6 mil in YTD3Q19.
The increase is due to the higher revenue generated from Menara Shell, Wisma TechnipFMC and Tesco Building Penang. While there is no operational data available in the quarterly report, we would assume that there has been either an improvement in the overall occupancy rate or positive rental reversion for those properties.
3) 90% of leave due for expiry in September renewed
In 2020, there is approximately a total there is a total of 19% of leases or 371k square fees which are due for renewal. As at 3Q20, 241k square feet of the lease which were due in 3Q20 of which 90% of it has been renewed. This is fairly commendable given the economic outlook in FY20 itself.
As for the remaining leases, negotiations are ongoing and will definitely be an area to look out during the release of full-year result. The management has shared that the Klang Valley office market will remain challenging and they would focus on cost optimisation and tenant retention.
4) Increased in distribution per unit
Given the improved in financial performance, the distribution per unit of MQREIT has likewise improved as well. The DPU for YTD3Q20 is 5.63 cents as compared to 5.08 in YTD3Q19. This is mainly from the improvement in financial performance fuelled by the Menara Shell, Wisma Technip FMC and Tesco.
The proposed disposal of Quill 5 would not have any material impact on the DPU as well given that the funds will be used to rejuvenate its overall portfolio. As from the earnings perspective, there is no loss in revenue as the property itself is currently not occupied.
Summary
Based on our overall analysis of MQREIT 3Q20 performance, it has performed rather well in the last 9 months. Financials performance-wise, it has improved compared to its preceding 9 months. Given the economic climate, this is fairly commendable. The proposed disposal is also a favourable move in our opinion given the fact that the property performance has been declining and left vacant. The capital will be much better redeployed to areas which would bring in more yield to investors.
Nevertheless, it will be interesting to see how it has performed in Q4 and we are definitely keen to dive into its operational details when the annual report is released.
What are your thoughts of MQREIT 3Q20? If you are just getting started, feel free to read more of our REIT Guide and REIT Analysis. You can also read more about what REITs are if you are new to REITs.
Do join our community over at Facebook and Instagram.