MQREIT (KLSE: 5123) or also known as MRCB Quill REIT is a Malaysian based REIT which was listed in Bursa Malaysia on January 2007. They invest primarily in commercial, office, car park and retail properties. As at the date of this analysis, there are trading at MYR0.75.
In this post, we will be discussing more on MQREIT and their performance in 2019.
Here is a quick overview for those who are new to MQREIT. MQREIT owns 10 commercial and retail assets with the majority of the assets relating to office buildings. 93% of their properties are located in Central Malaysia with another 7% located in Penang.
1) Operational Overview
The industry mix of MQREIT is relatively diversified with tenants from various industries. The industry which makes up the bigger chunk is the oil and gas industry. It accounts for approximately 32.1% followed by retail industry with approximately 20.6%.
From our perspective, turmoil in a particular industry could easily affect MQREIT. In this case, the oil and gas industry which appears to be the core industry contributor. With the oil price war between Saudi Arabia and Russia, this could be potentially adverse to the oil and gas industry in general.
The occupancy rate, on the other hand, has been declining from FY17 to FY19. Platinum Sentral and Wisma Technip which has a close to 100% occupancy rate in FY17 have declined to 84% and 90% respectively in FY19.
Occupancy for Quil Building 5 which has an occupancy rate of 78% in FY17 has dropped to a rate of 56% in FY18 and being completed vacant in FY19.
The ability of the management to look for tenants to occupy the building is crucial for MQREIT growth. In this aspect, let's look at the renewal rate in 2019.
From a total of 369,000 square feet which are due for renewal in FY19, they have managed to renew 71% of it. Another 21% of the expired lease is signed with new tenants. However, another 8% of lease not being renewed which translate to a drop in occupancy rate discussed earlier.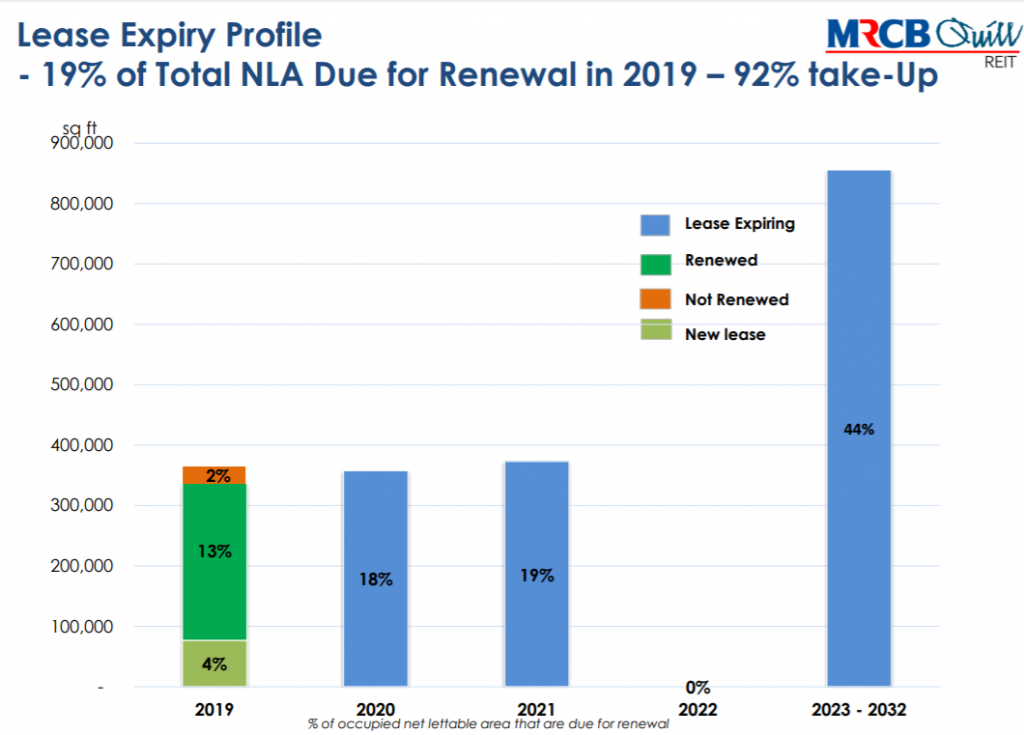 Looking at the lease expiry profile, approximately 37% of the lease will be due to expire in 2020 and 2021. Given the current movement restriction order and COVID-19 development, this could be adverse to businesses in Malaysia. Which in return could be affecting MQREIT. For investors, this is worrying as a vacant building also means a loss in distribution income.
2) Financial Performance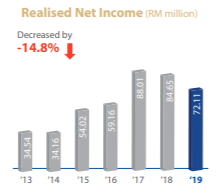 Based on the operation overview discussed earlier, it is clear why the gross revenue and net income have been declining from FY17 to FY19. The decline in occupancy rate has been a crucial factor in the reduction in performance.
For the REIT performance to improve, it would be dependent on the management the ability to improve the occupancy rate. Secondly, it will be their ability to manage the upcoming lease expiry. 37% of the total leases are due to expire in 2 years.
This will definitely be challenging in the short term with the current COVID19 development in Malaysia.
3) Distribution Per Unit (DPU)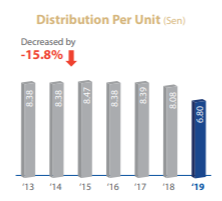 The dividend yield of MQREIT is at 6.8% based on the closing price in December 2019. That is a relatively reasonable yield. However, if you were to look at the historical distribution, the distribution per unit of MQREIT has been on a declining trend from 8.47 cents FY15 to 6.80 cents in FY19.
With the uncertainty in outlook in Malaysia and for MQREIT, how would it further impact the distribution per unit? That is a question investor need to ask before investing in MQREIT.
4) Gearing and Borrowing
The borrowing as of December 2019 is at MYR835.7 mil with 76% of the borrowing being a fixed interest borrowing. 24% of the borrowing are floating interest rate borrowing which is subject to interest rate risk. An increase in interest rate will be adverse to MQREIT. However, given the recent reduction in interest rate announced, that would be favourable news to MQREIT.
As at 31st December 2019, the gearing ratio of MQREIT is at 37.8% which is still within the permissible gearing threshold.
5) Price to Book ratio
The NAV per unit as at 31st December 2019 is at MYR1.2348. This would come up with a price to book ratio of 0.8 based on the closing traded price in 2019. We will let you decide if this is worth buying.
Summary
The financial performance of MQREIT appears to be declining given the drop in occupancy rate in a number of its properties. Given the uncertainty of COVID-19, it might be challenging for MQREIT to grow with another wave of lease due to expire within this year itself.
That's it for our analysis on MQREIT. What is your take on this REIT? Share your thoughts with us at the comment below.
If you like this analysis, here is more REIT analysis.