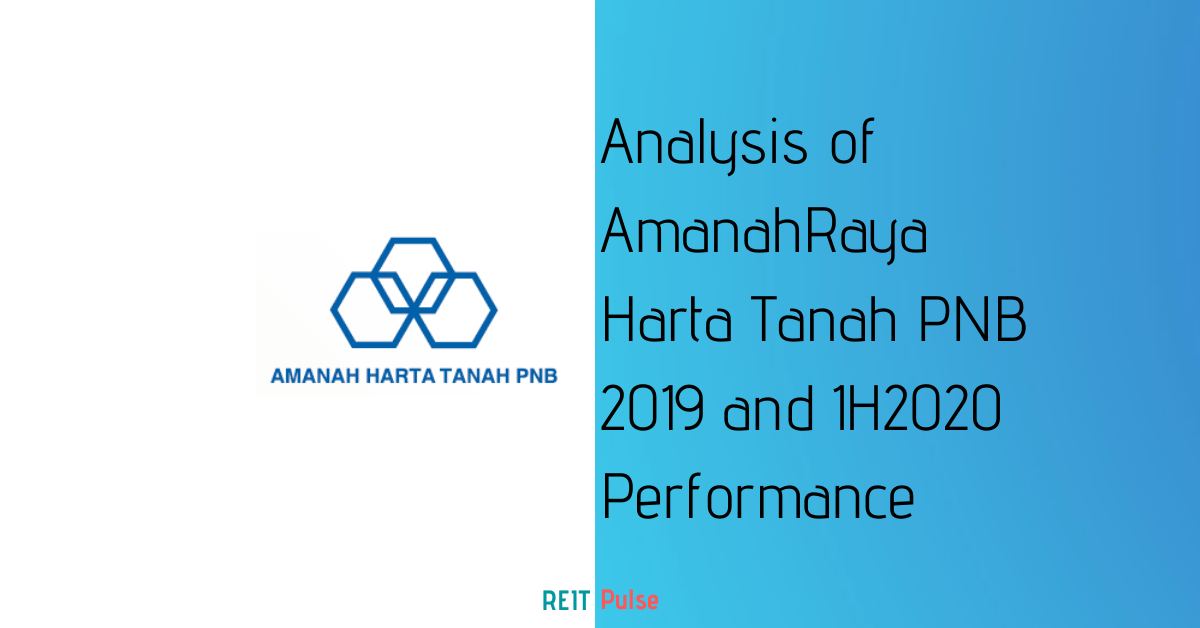 Amanah Harta Tanah PNB (KLSE: 5127) is a Malaysian based REIT which was listed in the Bursa Malaysia market on 28 December 1990. They are managed by Perlaburan Hartananah National Berhad, a wholly-owned subsidiary of Permodalan Nasional Berhad which is one of the largest fund management companies in Malaysia.
Read more: Understanding the REIT structure and its underlying expenses
As of 31 December 2019, they primarily involved in the office and retail REIT sector with a total of 4 properties across Malaysia. Out of 4 of its properties, 3 of the office properties were acquired way before the year 2000. The remaining one property, Mydin Hypermarket Seremban 2 relate to a retail asset which was acquired back in 2016.
| | | |
| --- | --- | --- |
| | Investment value | Proportion |
| Plaza VADS | 138,341,577 | 34% |
| Bangunan AHP | 44,346,167 | 11% |
| Strata shop office, Asia City | 1,800,000 | 0% |
| Mydin Seremban 2 | 225,201,014 | 55% |
| Total | 409,688,758 | 100% |
The newly acquired retail properties, Mydin Seremban account for a huge proportion of the properties composition followed by Plaza VADS. It is also worth noting that the REIT Manager is in the process of disposing of Strata Shop Office as of 31 December 2019.
In this post, we will be discussing more on Amanah Harta Tanah PNB FY19 and latest quarterly result.
1. Overall improved in occupancy post disposal of a number of properties

Looking at the overall occupancy rate of Amanah Harta PNB, it has improved from 86.3% in FY18 to 92.8% in FY19. The improvement is mainly attributed by Plaza VADS and Bangunan AHP. Both these buildings hold a huge weightage on the overall performance of the REIT. Hence, it is a positive point for Amanah Harta PNB.
The improved occupancy rate at Plaza VADS was due to the expansion of one of the tenants, Banyan Padu Sdn Bhd which rented additional floors. As for Bangunan AHP, a new tenant Aspiration Education Services has signed a new tenancy for the whole of Level 3 which has contributed to the increase in the occupancy rate to 80.9%.
Mydin Seremban 2 which is a retail asset remain stable with occupancy at 100%.
2. Reliant on Mydin Mohamed Holdings Berhad
A point we would like to highlight is the huge reliance on Mydin Mohamed Holdings Berhad which is the sole tenant of Mydin Seremban. Depending on how you view it, this can be both good and bad. The downside of this is the tenant concentration risk whereby a lost in tenant would result in huge disruption to the overall REIT performance. Looking at the table shared earlier, Mydin Seremban accounts for approximately 55% of the properties composition.
On the positive side, the lease signed by Mydin is fairly long. As at 31 December 2019, the weightage average lease expiry (WALE) is close to 15 years. Provided that Mydin continues to be in business for that period of time, this would be a fixed guaranteed income for the next 15 years.
It is also key to note that Mydin Mohamed Holdings Berhad is also a substantial unitholder of Amanah Harta Tanah PNB with 23.14% shareholding as at 31 December 2019.
3. Improved in net realised income
| | | | |
| --- | --- | --- | --- |
| MYR in 000s |  FY17  |  FY18  |  FY19  |
|  Revenue  |       39,545 |       39,221 |       38,576 |
|  Net Property Income  |       33,033 |       31,497 |       32,078 |
|  Net Realised Income  |       11,435 |       12,398 |       15,222 |
The net property income of Amanah Harta Tanah PNB declined from MYR 33.0 mil in FY17 to MYR 31.5 mil in FY18. The drop is mainly contributed by a slight decrease in overall occupancy rate and an increase in property expenses. Net property income for FY19, on the other hand, has improved slightly from MYR 31.5 mil in FY18 to MYR 32.1 mil in FY19. During the year, the manager has disposed of a number of properties which help in improving the overall profitability.
Net realised income, on the other hand, has increased year on year from MYR 11.4 mil in FY17 to MYR15.3 mil in FY19.
4. Declining 1H 2020 Performance
Based on the latest available quarterly report, the overall financial performance has declined as compared to the previous half result in FY19. The revenue decline from MYR19 mil in 1H19 as compared to MYR16.8 mil in 1H20 is mainly attributed to the rental discount granted to the tenants as a result of the movement control order (MCO). In regards to the expenses, finance cost has decreased as a result of the repayment of financing totalling MYR 24.15 million in FY19.
5. Improved in gearing with loans which are variable in nature
| | | | |
| --- | --- | --- | --- |
| |  FY17  |  FY18  |  FY19  |
| Gearing | 39% | 39% | 36% |
As at 31 December 2019, Amanah Harta Tanah PNB has a total borrowings of MYR 163 million. Of the total loan, all of it is variable in nature. This would be subject to interest rate risk but given the interest rate cut in Malaysia, this would be potentially favourable to them in the short term.   
The gearing level has been on a declining trend with an improvement in FY19 mainly from the repayment of a portion of the financing in FY19.
Read More: How does Interest Rate Affect REITs
6. Increased Distribution Per Unit (DPU) since FY17
The final aspect we will be looking at is the distribution per unit (DPU) of Amanah Harta Tanah PNB. DPU have been on a positve uptrend increasing year on year from 4.50 cents in FY16 to 5.75 cents in FY19. The positive improvement is mainly from improvement in overall profitability of the properties.
Looking at the performance going forward, the uncertainty of COVID-19 pandemic will definitely continue to put on pressure on Amanah Harta Tanah PNB as seen on the first 2 quarter result.
Summary
Based our verdict, the overall profitability of the REIT has been improving through the disposal of less performing properties. Further, the improvement in occupancy rate have been another plus point. However, the uncertainty of COVID-19 pandemic will be a challenging area for the REIT manager to fare through. Not only for Amanah Harta Tanah PNB but for all other REITs in the region.
Depending on preference, we do not like the huge reliance on Mydin Seremban which account for approximately 55% of the total properties composition. With a few of the properties disposed, it would be interesting to see how the REIT manager further grow.
Comparing the NAV per unit as at 31 December 2019 of MYR 1.28 to the latest traded price of MYR 0.66, it would give investors a price to book of approximately 0.52. We will let you decide if this is worth investing it.
What are your thoughts on Amanah Harta Tanah PNB? If you are just getting started, feel free to read more of our REIT Guide and REIT Analysis. You can also read more about what REITs are if you are new to REITs.
Do join our community over at Facebook and Instagram.